Biographical Sketch
Of Our Pastor
Elder Clifford Brown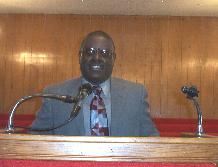 Elder Clifford Brown was born January 13, 1951 to the Superintendent Roosevelt Brown and Sis. E.V. Brown in Tyler, Texas. Under their leadership he began his training at Hillcrest Church Of God In Christ, at an early age.

Upon graduating from Emmett Scott High School, Tyler, Texas in 1969 he received a band scholarship to attend Jarvis Christian College in Hawkins, Texas. He graduated from Jarvis Christian College in May 1973. While attending Jarvis Christian College he met his wife Deborah C. Lee. They were united in Holy Matrimony on May 11, 1974. In 1974 they moved to Lubbock, Texas. While In Lubbock he attended and graduated from Texas Tech University with a Bachelor Degree in Accounting. In February 1983, he was granted a certificate to practice as a Certified Public Accountant (CPA) in the State of Texas. He also attended graduate school at the University of Houston in Clear Lake.

In 1980, they moved from Lubbock to LaMarque, Texas where they began worshipping at LaMarque Chapel Church Of God In Christ under the leadership of Dr. A.J. Hines.

In 1985, at a LaMarque Chapel revival, conducted by Missionary Mary Hines, he accepted Jesus Christ as his personal savior and received the Holy Ghost. He began serving as teacher of the young adult Sunday School Class and was subsequently appointed teacher of the adult Sunday School class.

Under the leadership of Elder Harry E. Allen, at LaMarque Chapel, he has served as a Church Brother, Deacon, Associate Minister, Trustee Board member, Finance Committee Chairman, Anniversary Committee member, and various other areas of service.

In the Galveston District, under the leadership of Superintendent Melvin James, he served as the District Secretary and is still serving in that position.

He serves on the audit committee of the 1st Ecclesiastical Jurisdiction Texas Southeast Church Of God In Christ, Inc.

On December 28, 1992 the Lord called him into the ministry, under the leadership of Elder Harry E. Allen. He preached his first message in February 1993. In January 1998, under the leadership of Bishop Robert E. Woodard, Jr., he was ordained an Elder.

On October 16, 1999, God rewarded him for his faithfulness and he was appointed pastor of James Temple Church Of God In Christ, in Dickinson, Texas.